Shawn Mendes Recalls The Night Collaborator Teddy Geiger Came Out As Trans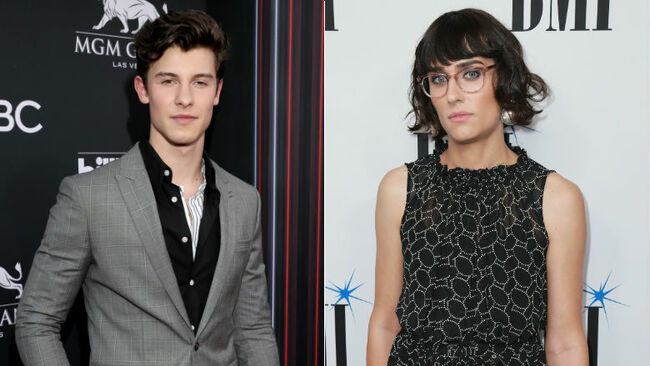 Shawn Mendes has nothing but support and love for the key folks that have helped him find his musical identity. One of those collaborators includes longtime songwriter Teddy Geiger, who has been at the helm of "Treat You Better", "Mercy" and "In My Blood," and recently decided to come out as transgender in October 2017 on Instagram.
Now, in a new interview with Entertainment Weekly, the 19-year-old pop star has spoken out about his collaborator, admitting that the connection he made with her was right there at the beginning when they worked on 2015's "Stitches."
"I met Teddy the night I cut 'Stitches' and we've had a really special connection ever since then, and for her to feel so comfortable with me and the other songwriters the night she came out… I can't express how happy that made me," he told the magazine. "And it's something I really love to say: it's a very new thing, right? People transitioning, there are still a lot of people who don't understand it, and to refer to somebody as a pronoun that you haven't been referring to them as their entire life, your entire life, is very difficult. But the thing that's amazing is that I remember the day I said 'she,' and it wasn't because I said it consciously, it was because I said it without thinking, basically just in conversation. I didn't realize I did it, but she looked at me and she had the most incredible look in her eyes."
Afterward, Mendes admitted that his lack of pronouns in his lyrics is simply because none of that actually matters to him. "Everything is up for your perspective," he continued. "Let it be you. It really just doesn't matter to me at all nowadays. I love how open everybody is and how open everything is. It just makes life more fun."
You can expect Mendes to perform new material when he takes to our 2018 iHeartRadio Wango Tango by AT&T, which will be hosted by Ryan Seacrest. The star-studded lineup also includes Ariana Grande, Meghan Trainor, 5 Seconds of Summer, NF, Miguel, Janelle Monáe, Marshmello and the Backstreet Boys with a special guest performance by Logic, with more to be announced. The concert series will be the first to be held at the all-new Banc of California Stadium in Los Angeles on June 2.
The best part is, music fans from all over the US can watch it all go down via a live stream exclusively on ATT.com and Twitter. Wango Tango will also be broadcast live via iHeartMedia radio stations throughout the country across more than 150 markets. Finally, re-live the amazing summer kickoff by tuning into a 90-minute television special, exclusively on Freeform, on Sunday, June 3rd at 8 p.m. ET/PT.