Christina Aguilera Reacts To Nicki Minaj & Cardi B's NYFW Brawl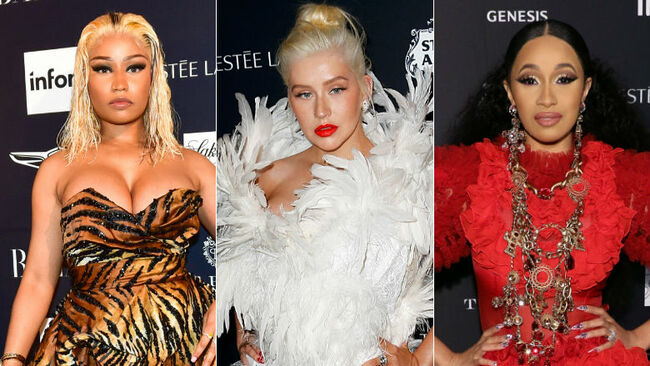 Even though Christina Aguilera performed at NYFW's Harper's Bazaar ICONS weekend affair, the pop veteran didn't catch any of the juiciness from the Nicki Minaj and Cardi B brawl. On Wednesday (September 12), Aguilera took to Jimmy Kimmel Live! to talk about the debacle.
"I wish I would have seen this juiciness go down, I didn't know," Aguilera told the late-night host about missing the viral moment. "I'm so that person that's like, 'What's going on, what happened? When I got offstage, it took a while for me to actually find out. We got off stage and I didn't feel like there was any drama. We went to a hotel room where I could change and de-stress. Next thing I know, I hear shoes were flying. I don't even know! But my hairdresser was like, 'I think you're going to be interested in something that happened while you were onstage.' I was like, 'What happened?'"
By the time Aguilera finished her set, which included the oh so appropriate "Fighter," "Dirrty" and "Genie in a Bottle," the singer said that the two rappers and their entourages were gone.
Elsewhere during the interview, Aguilera spoke about how famous feuds are settled differently in 2018 compared to the days of her career come-up. "I came from the era where privacy was actually a good thing and it was a cool thing to have mystique and a mystery about yourself," the diva said, before claiming that the media set up her beef with Britney Spears.
"When I was coming up it was very obvious. Me and Britney were definitely the Britney/Christina considered 'rivalry thing,'" she said. "If we had social media back then, we would have probably done a song together or something and just squashed that whole thing."
"It's probably not too late for that," Kimmel told the star, to which she responded, " It's probably not too late, Britney. Hey, I'm down. If her reps say OK, you know..."