Ariana Grande Spotted In NYC For First Time Since Mac Miller's Death
Ariana Grande was spotted in dancing in the rain in New York City with friends on Tuesday (Sept. 18). This was the first time the 25-year-old pop star has been seen in public since her ex-boyfriend Mac Miller's death on September 7th. Grande was deeply affected by the tragic passing of Miller, writing a tribute to her ex and dear friend on Instagram, "i can't believe you aren't here anymore. i really can't wrap my head around it. we talked about this. so many times. i'm so mad, i'm so sad i don't know what to do."
After Grande and her fiancé Pete Davidson skipped their scheduled appearance at The Emmys, a rep for Grande revealed that the "God is a Woman" singer would be taking "some much needed time to heal and mend." She plans to "stay close to home" to spend time with her loved ones, as well work on new music without deadline.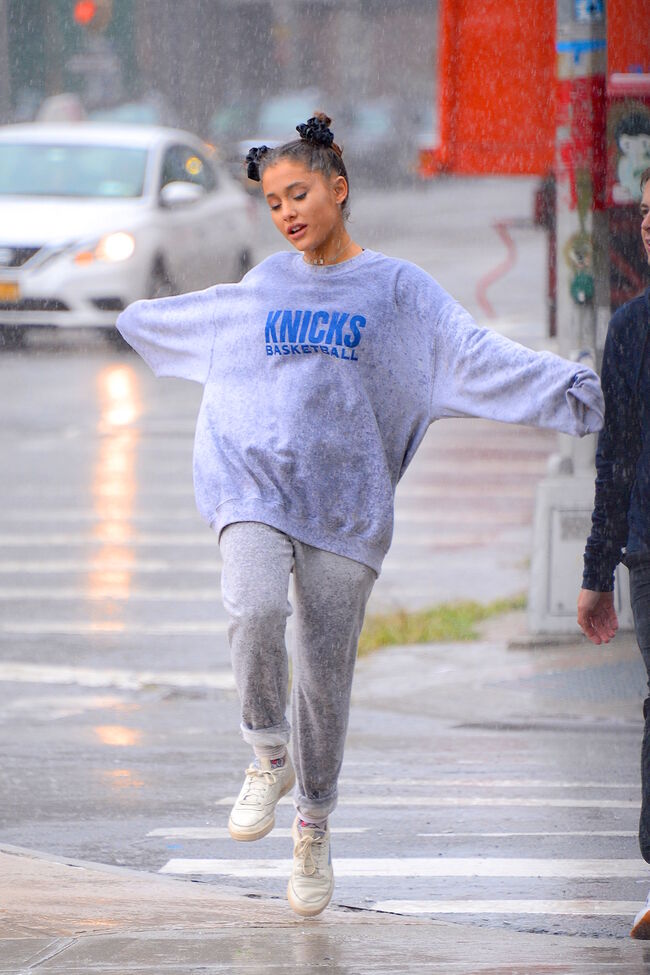 Grande was caught in the rain while out on a Starbucks run with some friends. Dressed in an oversized Knicks sweatshirt and matching grey sweatpants, Grande embraced the weather and skipped around in the rain instead of getting upset.
Grande and her friends got soaked, of course, but they didn't let that ruin their day out in New York City.
It's great to see Grande getting to spend times with her loved ones in the wake of such an unexpected tragedy. While her fiancé was not spotted out with Grande on Tuesday, he did opt to stay in New York with her instead of attending The Emmys with his Saturday Night Live cast. The engaged couple reportedly adopted a teacup piglet they named Piggy Smalls, which must also be a comfort to Grande during this difficult time. There's nothing like the love of a pet to help you deal with heartbreak.
Photo: Getty