Trump Admin Tells Iowa Town To Remove Pride Crosswalks, They Refuse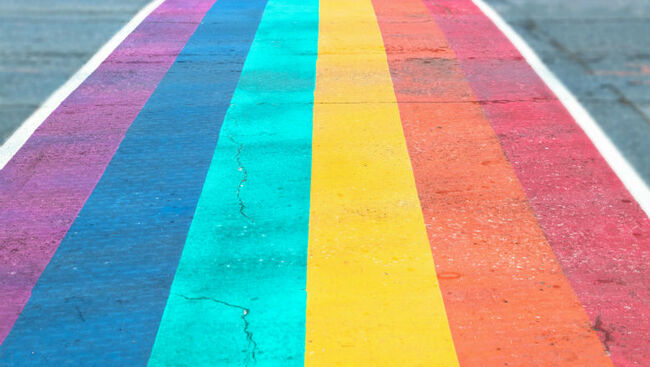 Kudos to the officials in Ames, Iowa for reading, but ultimately, just reading a letter from the U.S. Department of Transportation's Federal Highway Administration asking for the removal of their Pride crosswalks.
As per the letter, the Trump administration has requested that the town remove Pride crosswalks because they claimed they are a safety hazard. The crosswalks include the Pride flag, along with the addition of black and brown stripes to show inclusivity for all of the groups within the LGBTQ community. "Crosswalk art has a potential to compromise pedestrian and motorist safety by interfering with, detracting from, or obscuring official traffic control devices. The art can also encourage road users, especially bicycles and pedestrians, to directly participate in the design, loiter in the street, or give reason to not vacate the street in an expedient or predictable manner," the FHWA wrote in the letter to Ames City Manager Steve Schainker, which was dated September 5, as per CNN.
"It also creates confusion for motorists, pedestrians, and other jurisdictions who may see these markings and install similar crosswalk treatments in their cities," the letter continued. "Allowing a non-compliant pavement marking to remain in place presents a liability concern for the City of Ames in the event of a pedestrian/vehicle or vehicle/vehicle collision."
As per the Ames Tribute, council member Chris Nelson had the perfect response to the inquiry. "My only question is, do we need to do anything?" Nelson said during a recent meeting. "Can we just accept the letter and say thank you?" Meanwhile, city attorney Mark Lambert said there's a very good argument that the crosswalks don't violate any laws. "As I said in my memo, (FHWA) couldn't explain to me how they had jurisdiction over city streets, they were unaware of any penalties, and said they were still research that," Lambert explained. "Frankly, I think that according to the manual itself, there's a good argument we're not violating the manual, since there's no prohibition on colors."