Shakira Calls Her 'El Dorado World Tour' Film A 'Different Experience'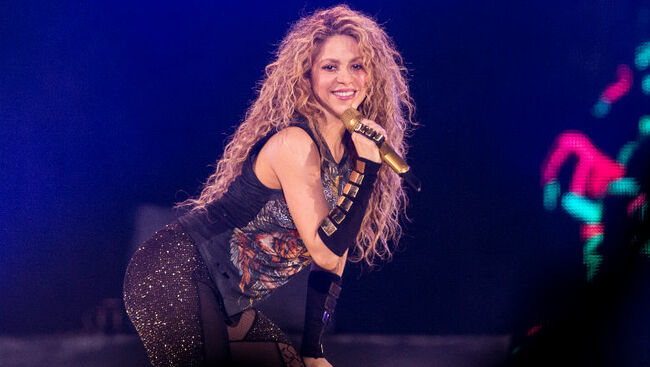 If you're looking for a way to amp up the excitement for her 2020 Super Bowl Halftime Show, Shakira in Concert: El Dorado World Tour is heading to international movie theaters on November 13 for two-nights only.
The upcoming documentary, which will be released as part of a new live album, was filmed during her Los Angeles concert, with additional footage from the tour's global dates, including the final show in Bogota, Columbia. The Columbian entertainer's two-hour film, which is described as "a 360 experience," is prominent because it touches on the postponement of the entire tour due to her vocal cord injury. The larger-than-life trek was in support of her 2017 album of the same name, which earned her a Grammy for Best Latin Pop Vocal Album and a Latin Grammy for Best Contemporary Pop Vocal Album.
"I know that some people are going to be living that experience for the first time watching the movie, but a lot of people are also going to be reliving it with me," Shakira told Billboard at a private screening of the film in Barcelona, where she currently lives. "To be able to share it with people all over the world, people in different countries, who belong to different cultures, speak different languages, and to be able to watch it simultaneously, it just means so much after everything I went through."
Shakira went on to admit that teamwork played a crucial factor in pulling off the production of the LP and accompanying tour. "I think it's fun to look back and see what an awesome crew I had, how important teamwork was to be able to pull this off. I think that [the movie is] a different experience I'm offering my fans after so many years of doing this," she continued.
In addition to including dazzling performances, the film marked the star's first as a mother. Her two sons and her partner, footballer Gerard Piqué, also make appearances in the documentary. Shakira in Concert: El Dorado World Tour was directed by the superstar and TV veteran James Merryman. It is scheduled to be shown in more than 2,000 theaters in 60 countries, according to distributors Trafalgar Releasing. Stateside fans will get the opportunity to see an encore presentation on November 17 following its premiere. Click here for more details on the film.